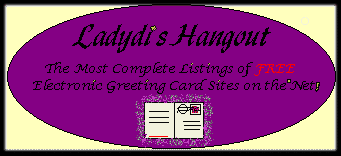 over 11,800 card sites and growing!


hi there!  you've arrived at my card pages...
the most complete listing of FREE electronic 
greeting cards on the net!  i hope you can find what you are looking for... 
if not, email me and i'll try to find it for you...  
i am constantly adding new card sites, so check back often...

scroll down to the alpha table below to start checking out
the cards on my regular card pages a thru z...
or if you like the "all yours or digital card shops" 
which let you do a lot of customizing, 
check out my listing of those...

visit my own card shop
where you can create and send free cards... i'll be adding my own images soon...





a huge thank you to marcia for her special assistance... :)

let me know you were here...  
sign my guestbook before you leave...have fun!

sign in, please :)

view my book...

click on a letter to go to that card page


visit my other pages...ladydi's hangout

if you know of a greeting card site i have missed, experience any problems with my pages or just want to say hi, email me!